As always I'm rather slow to pick up on new releases in the first few months of the new year. Usually it takes me about 3 months to recover from my regular December shopping extravaganza and the accompanying year-end-list routines. This year seems to be no exception. The last two months I've been listening mostly to all those sweet releases that came popping up at the end of 2006. There are however a couple of clear favorites amongst the 2007 releases that I did hear so far. But first let me post something about my favorite 2006 release that came just to late to find a place in my 2006 top 25, Green Blues by MV & EE with the Bummer Road.
MV & EE with the Bummer Road
Their "Green Blues" album on Thurston Moore's Ecstatic Peace label was somewhat awkwardly distributed which made it quite impossible to be enlisted on many end-of-year lists. It is however a stunning release and quite possibly the best MV & EE work yet.
MV & EE with the Bummer Road – East Mountain Joint
Now this song is nowhere near representative for the rest of the album I must admit, but its sheer folky, funkiness is quite possibly the most addicting tune I've come across in a while. The rest of the album is much druggier, just what you would expect from Matt Valentine, only better. And who else could come up with lyrics like "I inhaled a vortex last night"….?
MV & EE with the Bummer Road – Big Deal
This song is pretty much what the record is about for me. Incredibly freehearted psychedelic folk with soaring guitars. You do not need drugs to get high with this music.
Richard Youngs & Tirath Singh Nirmala
Now on to 2007! And staying with the folkier stuff, this is a great collab on the Canadian HP Cycle label. Somewhat in tune with one of my last year's favorites, from Youngs, Neilson and Galbraith. Only this one is much folkier. Aquarius Records aptly describes their music as "perfectly blissful and bucolic primal forest ambience".
Richard Youngs & Tirath Singh Nirmala – Untitled #5
This song is simply perfection. For me it could go on endlessly, trapped in the swirling stream of meditative melodies, the hypnotic clapping and Richard Youngs' distinctive voice. This is wonderful stuff; let's hope 2007 will bring more like this.
Aaron Martin & Machinefabriek
Two of my last year's favorite artists decided to start 2007 off with a spectacular collaboration entitled "Cello Recycling". This project was initiated to create a piece that will be playing non-stop for two months at a gallery in the Netherlands called Lokaal 01. The music comes soaring over our heads and floats through the room with an ominous and threatening presence. Aaron Martin laid down some cello recordings which Rutger Zuydervelt (a.k.a. Machinefabriek) used and transformed into a completely new composition, hence the title. It might just be my favorite Machinefabriek work till date.
Aaron Martin & Machinefabriek – Cello Recycling
And if you aren't yet familiar with Aaron Martin's solo work you should definitely check out his debut album on the Australian label Preservation released last year. Also one of those records that reached me too late to be incorporated in my year-end-list, but definitely amongst my favorites right now.
Aaron Martin – Karl Rove
Aaron Martin – The Ducks Are Just Sleeping
Slightly recalling the work of The Books, Aaron Martin manages to make incredibly personal and reflective music that still comes off as being playful and humorous. He builds his music through layered loops and thereby creates a collage of many instruments and samples. His songs have a very melancholic feel that gracefully swirl into dreamy and wistful imagery. Also check out the other tunes on his myspace page.
Die Schachtel – Zeit series
Not an artist but instead an Italian label that instantly blew me off my feet and started off 2007 with two remarkable additions to their Zeit series (the first one was released in 2006). Die Schachtel is a great electronics label which focuses on electronic avant-garde music and the sound-art scene, of the period 1960-1980, but with the Zeit series they focus on more contemporary Italian electro-acoustic music. All three editions so far of the series so far were mastered by non other than Giuseppe Ielasi.
Zeit 1: A – Track 3
Zeit 2: Angelo Petronella – Tratto 2
Zeit 3: Christa Pfangen – I'm Leaving
Great design on all three releases that perfectly blends in with the music. These are all very rich yet subtle and refreshing releases, each focusing on different elements. The drumming especially on the Christa Pfangen album and the use of field recordings by Angelo Petronella are outstanding. Great series already with hopefully much more releases to come in the rest of 2007.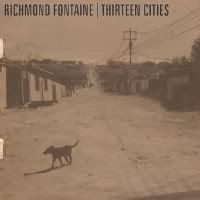 Richmond Fontaine
Something totally different from the music already listed above, Richmond Fontaine are "the filet of the neighborhood" when it comes to contemporary alt-country. Again with this new album "Thirteen Cities" they've impressed me with a strong and varied collection of songs that manages to take their trademark sound to a new place.
Richmond Fontaine – $87 And A guilty Conscience That Gets Worse The Longer I Go
Richmond Fontaine – Capsized